Diesel pile hammers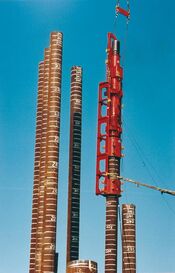 DELMAG diesel pile hammers are single acting free fall hammers utilizing the principle of impact atomization.
The diesel pile hammer consists of upper and lower cylinder in which the piston is led. The stroke of the piston and therefore the impact energy is regulated by the settings of the fuel pump. This is a particular advantage when soil formations change. Optionally a hydraulically actuated fuel pump with infinite settings is available.
The diesel pile hammers are very reliable and have only a little wear. They are almost maintenance free and can be used on different pile types like concrete piles, H-beams, sheet piles, etc.
Other advantages are the unmatched ratio of total weight to impact energy and the very low fuel consumption.
The rugged design, the reliability and the low maintenance and operating costs have convinced thousands of customers around the world that a DELMAG diesel pile hammer is always the right choice.